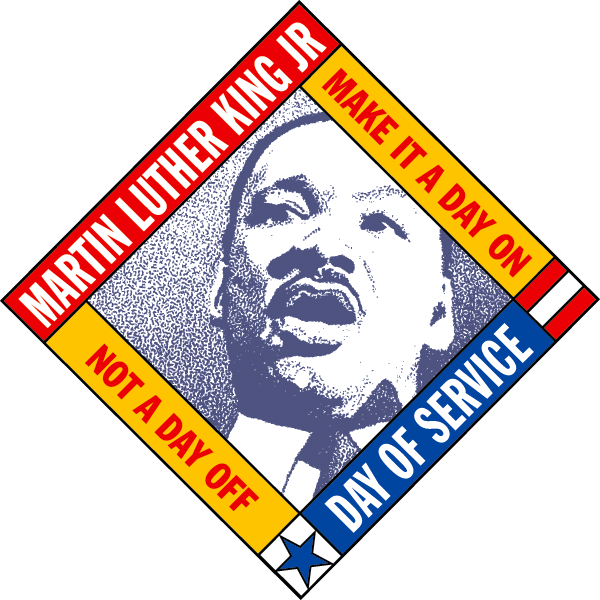 "Life's most persistent and urgent question is: What are you doing for others?"
- Rev. Dr. Martin Luther King, Jr.
The Martin Luther King Jr. Federal Holiday is a National Day of Service, and a time to re-commit ourselves to serving each other and our communities. Americans across the country will honor Dr. King by helping their neighbors and communities. This Day of Service is a way to transform Dr. King's life and teachings into community service.
Participate (scroll down) and share with us on social media. We're @HandsOnRVA #MLKDayRVA
HandsOn Greater Richmond, Richmond Public Schools, University of Richmond - Bonner Center for Civic Engagement and Virginia Center for Inclusive Communities join together for an MLK Day School Supply Drive. Community members can join together to support RPS by collecting and donating school supplies, which will be distributed to RPS schools in January 2019.
Sign up to collect and/or donate supplies
Sign up for a slot on one of many projects occuring in our region and make this a day on not a day off for you and your family. Projects include, weeding, sorting and organizing, painting and much more. Most projects are family friendly.
Sign up now for an MLK Day Service Project.
STEP (2017) This documentary follows the senior high school girls on the step team of the Baltimore Leadership School for Young Women as they prepare to be the first in their families to go to college – and the school's first graduating class. STEP is more than just a hobby for these girls, it is the outlet that keeps them united and fighting for their goals.

Sunday, January 20, 2019.
Doors open around 4pm.
Movie begins at 4:30pm.
The Byrd Theatre: 2908 W. Cary Street.
FREE TO THE PUBLIC! Get tickets here

Movie will be followed by a short discussion and community conversation.

Co-hosted by The Virginia Center for Inclusive Communities, the University of Richmond Bonner Center for Civic Engagement, and The Byrd Theatre.

Please share your thoughts with us #MLKDayRVA #StepMovie and tag @HandsOnRVA
Take this opportunity to gather your friends, families, or colleagues and have a discussion around your community. You can use the following discussion questions as a guide:
- What is one thing you'd like to change in your community?
- What are the characteristics of a healthy community?
- What skills, resources, or talents do you have that you could use to change your community?
MLK Day Legacy of Service Video

(Corporation for National and Community Service)

Classroom helpers

(Scholastic)

--videos, news articles, photographs, book lists

America's Sunday Supper (Points of Light) --

encourage people to share a meal and engage in dialogue about issues that affect their communities. Includes conversation starters and other resources.