Age Minimum (with Adult): 8+, Minimum Age:14+, Court Ordered Volunteer - Allowed
No More Lonely Soles - Sign Up for Individuals (NOT A SIGN-UP FOR GROUPS)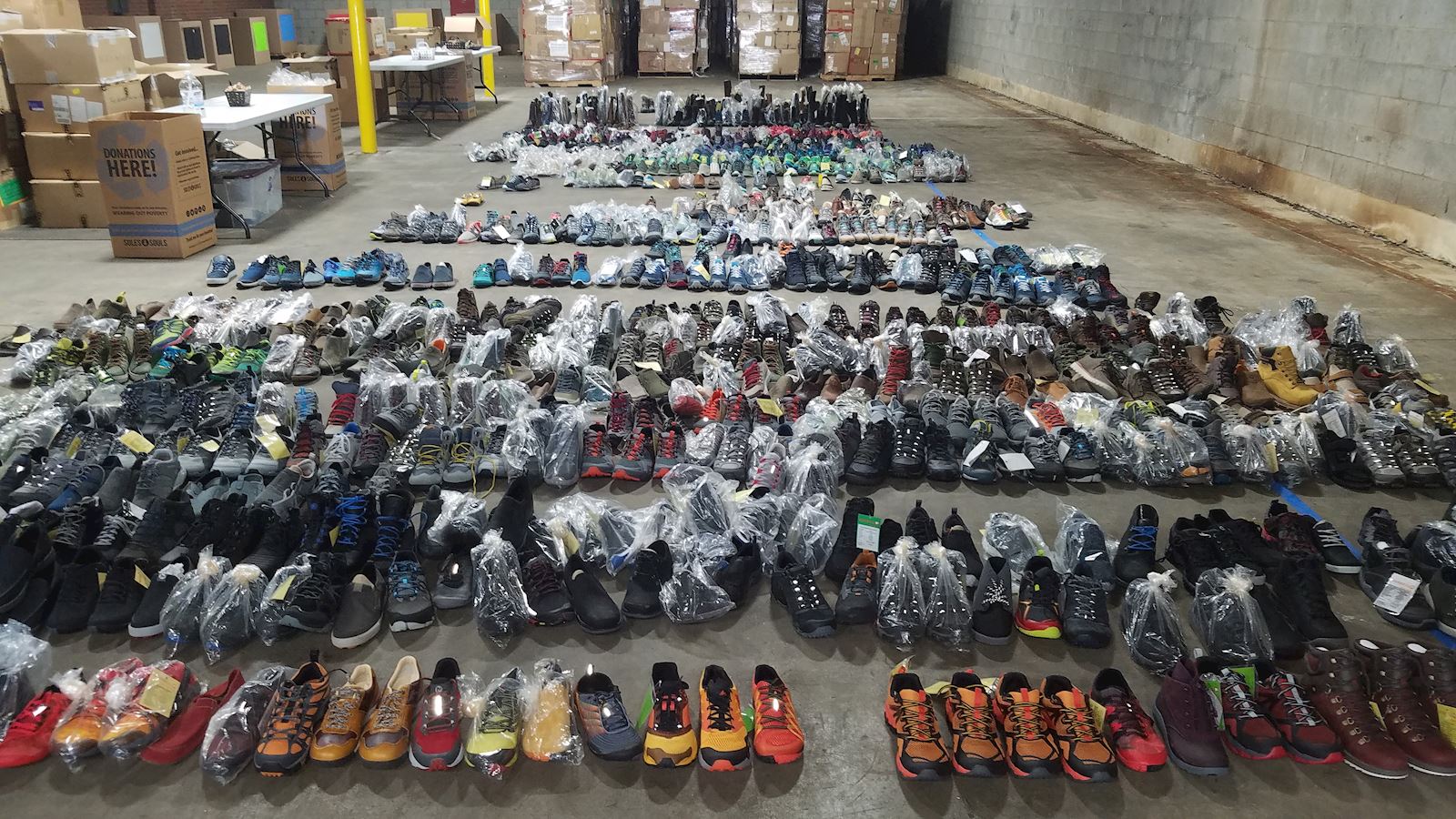 Volunteer Project:
By volunteering at the Soles4Souls warehouse, you get the opportunity to help process the shoes brought in from the community and retailers. Each bag/box that the shoes come in needs to be opened so that the shoes can be paired together. You can stay as little or as long as you'd like. We will write you a service letter if needed for however much time you spend processing.
Soles4Souls Mission:
Soles4Souls creates sustainable jobs and provides relief through the distribution of shoes and clothing around the world. It's estimated that 21 billion pounds of textile waste is dumped in landfills every year. That makes up more than 5% of all municipal waste generated every year. Since 2006, Soles4Souls has diverted 23.8 million pounds of shoes and clothes from landfills and instead created meaningful economic opportunities and helped provide new shoes for those in need around the globe. Gently-worn shoes collected help individuals start and sustain small businesses to lift themselves and their families out of poverty. Here is the impact an entrepreneur can make with the sale of 1, 20 or 30 pairs of shoes. 1 pair of shoes can provide 5 meals for Marie-Ange and her family in Haiti, 20 pairs of shoes can provide a year's worth of shelter for Ginette and her family in Haiti and 30 pairs of shoes can provide a year's worth of schooling for Tracy's daughter in Honduras.

Other Ask:
Please feel free to bring used shoes/clothing with you to donate!

Directions:
Soles4Souls is in a shared building (1700 Jefferson Davis Highway, Ste. E). When approaching the building you will see a long chain link fence on the perimeter, a ton of parked and sometimes active semi trucks and a long building. Make an immediate right turn when you come into the parking lot and go all the way to the end of the building where our warehouse is located. You can park anywhere in front of our space. The warehouse does NOT have AC/Heat so dress accordingly. Also, please wear comfortable clothing as this includes a lot of bending and moving. You're welcome to play music in the warehouse so feel free to bring a speaker.
IMPORTANT Information Before Signing Up:
GROUPS ARE WELCOME BUT NEED TO SCHEDULE THEIR TIME SEPARATELY - DO NOT REGISTER THROUGH THIS POST - SIGN UP HERE INSTEAD: https://calendly.com/soles4soulsva/volunteer-group
ALL Volunteers must submit waiver and Covid questionnaire before volunteering - must be filled out at least 24 hours prior to service: https://forms.gle/2RSJxh33yLJX8djV8
Masks are REQUIRED - theree are cloth and disposable masks available if you forget yours
We provide sanitizer and encourage frequent hand-washing
COURT-RELATED:

MINORS: You must be accompanied throughout the duration of your service by an adult.

ADULTS: You must show documentation from the courts regarding your need for service hours prior to coming to the facility.

ALL

:

We do not accept the following charges having to do with larceny, theft, forgery, breaking & entering, assault, felonies, civil disobedience charges, and any violent or sexual offenses. We also do not take charges for selling and distributing drugs.
You must pick up a volunteer hours log at the Regional Center and have a Supervisor at Soles4Souls sign this at the end of each volunteer shift.
MUST Submit this Court-Related Waiver and Disclousure Form: https://forms.gle/jqGX4jrp7zRLEr7w9
Please wait...
Log in or Register
In order to register for this opportunity you must log in to an existing account or register to create a new account.
Signup with team
This link allows you to participate in this opportunity with a team. When you click on the link you will have the option to:
Choose an existing team you're already a member or captain of, or
Create a new team to sign up.
Signup Questions
Please respond to the following questions in order to signup for this opportunity:
Please wait...
E-mail