Youth Volunteering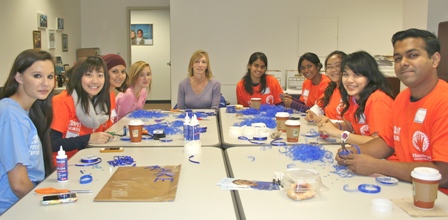 We encourage youth to volunteer independently and for families to volunteer together! We offer many opportunities for engagement, depending on the requirements of each nonprofit's project.
---
Volunteer Postings On the Site
Each post will indicate if you can sign up and reserve a slot right away, or if you will need to express interest to the nonprofit, who will then contact you to schedule you to serve. You can further narrow your search using the green search filters there as well.
Remember--youth, just like every other volunteer, must be registered for any opportunities they will attend. Remember to click the "sign up / express interest with a team" link at the bottom of each opportunity.
---

What does "minimum age" and "minimum age with an adult" mean?
"Minimum age" is the youngest age a youth can be to sign up and participate without an adult volunteer.

"Minimum age with adult" is the youngest age a youth must be signed up with a parent, guardian or responsible adult as a team.
Most of the time, groups volunteering with younger kids, will need to create a team to volunteer together.
---
What if I'm under 13?
Volunteers under the age of 13 are not able to sign up for individual accounts with email through our website due to the Federal Child Online Privacy Protection ACt (COPPA). Parents or other responsible adults will need to create a team to volunteer with and sign up with children under 13.
---
When do I need a youth waiver?
If you see this image:

At any HandsOn Managed projects that happen in person, volunteers under the age of 18 must bring a youth waiver signed by a parent or guardian. The waiver link to download will be on your confirmation page and in the confirmation email after you sign up.
Download a HandsOn Youth Waiver
Bring the signed waiver with you on the day of the project.